Sustainable Fisheries? The Economist Asked Our Experts
15 April 2019

Category:

Case Studies, News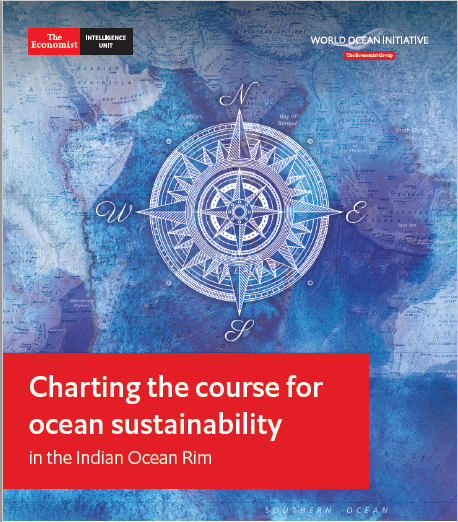 Sustainable fisheries in the Indian Ocean are possible; this requires integrated management.
Charting the course for ocean sustainability in the Indian Ocean Rim is an Economist Intelligence Unit report. It highlights key ocean challenges facing the Indian Ocean Rim countries and showcases initiatives undertaken by governments and the private sector to address them. The report explores how ocean sustainability can be achieved through the lens of developing nations, taking into consideration the challenges of a low income population as well as an environmental regulatory framework that has yet to mature.
Chapter 3 discusses unsustainable fishing in the Indian Ocean and the financial, social and technological innovations that could reform the sector. The first case study presents an innovative new approach to blue financing from the Seychelles; the second considers the potential for more involvement from women along the fisheries value chain, taking a look at training offered in Somalia; and the final case study explores the role of emerging monitoring technology in CLS' project with Indonesia to combat illegal fishing (IUU).
Excerpt from the report:
"To support its efforts to develop a national maritime surveillance programme, the Indonesian government turned to a global satellite monitoring provider, Collecte Localisation Satellites (CLS), and in September 2014 the Ministry of Marine Affairs and Fisheries launched the Infrastructure Development of Space Oceanography (INDESO) programme.
"INDESO was conceived as a complete system to monitor legal and illegal fishing, including [fish] stock assessment," explains Philippe Gaspar, head of innovation, sustainable management of fisheries at CLS France, the scientific coordinator for the programme. "Reasonable stock estimates would enable the government to [craft and] implement measures that would ensure sustainable fishing in Indonesia."
Beyond monitoring vessels, the INDESO programme also included 'a new-generation stock assessment component to the system, SEAPODYM, which enabled the Indonesian authorities to better manage key fish stocks, notably tuna and tuna-like species, as well as predict the evolution of fish stocks,' added Mr Gaspar. As the leading producer of tuna worldwide, Indonesia commissioned CLS to run stock assessment models for three types of highly prized migratory and transboundary tuna stocks: skipjack, yellowfin and bigeye tuna."