ASMFC type-approved VMS
Rugged, Weatherproof Design, USB and Solar Powered
Audible & Visual Alerts
Zone & Closed Area Alerts
Online Mapping & Weather Portal Included
Distress Alerts With Global Satellite Coverage
Simple, low-cost, DYI installation
Dedicated customer support
FishNEMO software included with subscription
Retail prices of only
$1499 (includes 4 years of airtime)
Fully reimbursable by ASMFC

Simple, Reliable, Affordable VMS Solution
NEMO is the first all-in-one system specifically designed to monitor and protect regional and state fisheries programs.
Suitable offerings for multiple vessels and fisheries. Wired connection via USB and built-in autonomous solar power come standard.
Choose your NEMO Package
Woods Hole Group is pleased to offer the following service package options:
Cellular + Satellite (4 years airtime)
$1499.00
Includes:
NEMO Device Kit
4 Years Airtime
2 Years Warranty
Access to FishNEMO software
Satellite Backup for Distress Assistance
Fees:
Shipping and activation fees are included
Device Only
$549.00
Includes:
NEMO Device Kit
2 Years Warranty
Access to FishNEMO software
Fees:
One-time Activation Fee of $24.95 when purchasing airtime plan
One-time Shipping Fee of $25.00 added to device cost
How to order your NEMO?
Order your NEMO by clicking the button below. The order will be shipped to the address specified. Our customer support team is available to help activate your unit and support you with any future questions.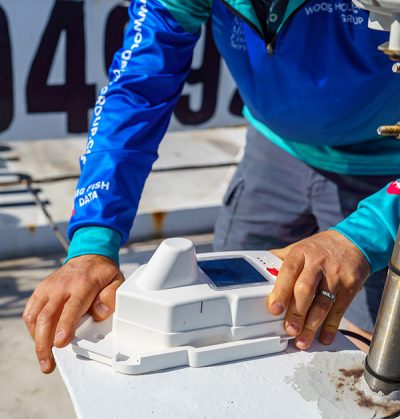 FishNEMO Software
A web interface designed to receive, store, process and access data provided by NEMO beacons and is supplied free of charge to the NEMO user through a secure login to a web based user interface.
It is a function rich application utilizing maps and layers to display vessel and environmental data.
Designed by CLS, the world leading VMS provider
Solar panel
Rugged, waterproof design (IP67)
Easy to use: Plug-and-Fish
Tamper-proof
Smart reporting
Geofencing
Alerts on events
Unique identifier
TRACKING YOUR TRIP AT SEA
Global coverage
Automatic data collection of vessel movements
Continuous on-board storage for data integrity
Precise positioning anywhere in the world from GNSS Satellites (GPS/Galileo/GLONASS/BeiDou/QZSS)
CONNECTING WITH YOUR PEOPLE
Zone management (geofencing)
GPRS
Cost-effective sea-to-shore reporting
Secure encrypted messages
Secure Bluetooth connection
PROTECTING YOUR FISHING
Request for assistance button
VMS features meet fisheries control regulation